Vital Proteins Marine Collagen Unflavoured 221g
×
DON'T FORGET
Purchase directly from us and you'll receive
Marine Collagen Unflavoured
Non GMO
Dairy Free
Gluten free
Unflavoured
This Marine Collagen is made from the scales of fresh, non-GMO, wild-caught white fish off the coast of Alaska. It's bioavailable, easily digestible and soluble in cold water.
Bioavailable: Easily digested and absorbed by the body
Benefits: Helps maintain good health
Easy To Use: Soluble in hot or cold liquids, including coffee and smoothies
Dietary Compliant: Whole30® Approved and Paleo-Friendly
Expertly Sourced: Non-GMO, wild-caught white fish off the coast of Alaska
Read More
Read Less
Ingredients
collagen peptides (from wild caught whitefish)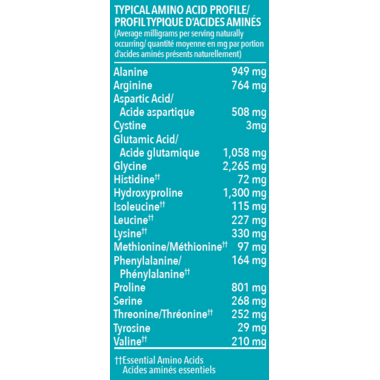 How to Use
Stir into your favorite beverages Add to smoothies as a protein booster, like this Watermelon Collagen Smoothie Mix with oatmeal, soups, or sauces
Healthy Planet Canada wants to ensure the complete and total accuracy of the product images and information contained on our website. However, some manufacturing changes to packaging or ingredients may be pending updates on our website.
Some items may occasionally ship with alternate packaging (recently updated by the supplier or manufacturer). While in these cases, ingredients are usually the same and only the packaging has been updated, we always recommend that you read labels, warnings and directions of all products before use and not rely solely on the information provided by Healthy Planet Canada.
Probiotics Disclaimer:
Probiotics are refrigerated in our warehouse to ensure quality and optimal potency. They are also shipped with a FREE ice pack. Although the product may not be cold when it arrives, this ice pack helps maintain a cooler temperature during transit. We recommend considering weekend/holiday delays when ordering (I.E. ordering on a weekday and not on Friday or Saturday, or during holidays