Glutino Pretzels Yogurt Covered 156g
×
DON'T FORGET
Purchase directly from us and you'll receive
Yogurt Covered Pretzels
Gluten Free
Wheat Free
Casein Free
Soy Free
Kosher
When you can't make that sweet or salty decision, just grab our gluten free yogurt pretzels. These salty pretzels are coated in rich, creamy yogurt, so you don't have to choose.
Rich and dreamy may be how some describe Mr. Right, but it's also what makes these twisted temptations so scandalously desirable. Gluten-free pretzels coated with premium yogurt.
Read More
Read Less
Ingredients
Yogurt coating (evaporated cane juice, cocoa butter, whole milk powder, yogurt powder, soy lecithin), Pretzel (corn starch, potato starch, palm oil, sugar, sea salt, cellulose gum, soy lecithin, sodium bicarbonate, yeast extract, sodium phosphate, citric acid, sodium hydroxide).
Contains soy and milk. May contain peanuts, tree nuts and sesame.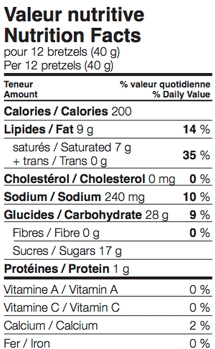 Healthy Planet Canada wants to ensure the complete and total accuracy of the product images and information contained on our website. However, some manufacturing changes to packaging or ingredients may be pending updates on our website.
Some items may occasionally ship with alternate packaging (recently updated by the supplier or manufacturer). While in these cases, ingredients are usually the same and only the packaging has been updated, we always recommend that you read labels, warnings and directions of all products before use and not rely solely on the information provided by Healthy Planet Canada.
Probiotics Disclaimer:
Probiotics are refrigerated in our warehouse to ensure quality and optimal potency. They are also shipped with a FREE ice pack. Although the product may not be cold when it arrives, this ice pack helps maintain a cooler temperature during transit. We recommend considering weekend/holiday delays when ordering (I.E. ordering on a weekday and not on Friday or Saturday, or during holidays