Eden Brown Rice Vinegar Organic 296mL
×
DON'T FORGET
Purchase directly from us and you'll receive
Brown Rice Vinegar Organic
Kosher pareve
Organic
No sodium
Fat free
Wheat free
Gluten free
Antioxidants
Macrobiotic
Patiently made using a 1,000 year old method. Organic brown rice, koji, and spring water are blended and fermented outdoors in clay crocks and aged eight months. Precious, sweet, smooth, and mellow. Enhances almost any food and it's essential to make good sushi rice. 4.5% acidity. Great chefs insist on this sweet traditional brew, please discover why. Amber glass protected. Functional dispenser cap and refillable.
EDEN Organic Brown Rice Vinegar is a refreshing and versatile seasoning. It is full bodied without the sharpness usually associated with vinegar. In cooking, brown rice vinegar helps to balance salt and adds interest by providing a stimulating contrast of flavors. Use it as you would any other fine vinegar. It is an excellent condiment sprinkled over vegetables and grain. Excellent on salads.
EDEN Organic Brown Rice Vinegar is made from organically grown, cooked brown rice Oryza sative, koji Aspergillus oryzae, a small amount of seed vinegar from a previous batch and pure water. These ingredients are blended and placed in earthenware crocks that are partially buried outside in the earth, covered and fermented for about eight months. The enzymes in the koji break down the complex starches in the rice converting them to simple sugars, then alcohol, and finally acetic acid or vinegar. We bottle it in amber glass to protect nutrients, flavor and bouquet. 4.5 percent acidity.
A vinegar that is labeled 'rice vinegar' does not assure its quality. Many commercial vinegars are synthetic products made from glacial acetic acid, a petroleum product. Others are made from alcohol produced for industrial use. Please avoid any vinegar labeled 'distilled,' as it is a most highly refined chemical, not food.
Authentic brown rice vinegar is considered a very healthful food in Japan and is served with almost every meal.
Rice vinegar was brought from China to Japan in the fourth century A.D., at about the same time that the closely related process for making rice wine (sake) was introduced. Natural rice vinegar maintained its popularity in Japan until the early 1900s when the cheaper alcohol vinegar brewing method was developed. EDEN Organic Brown Rice Vinegar is the healthiest, original version.
EDEN Organic Brown Rice Vinegar is excellent for making dressings and sauces. Essential for vinegaring sushi rice with over 90 other uses in the recipe section of this site, including Quick Dill Pickles.
Read More
Read Less
Ingredients
Water, Organic Brown Rice, Koji - 4.5% acidity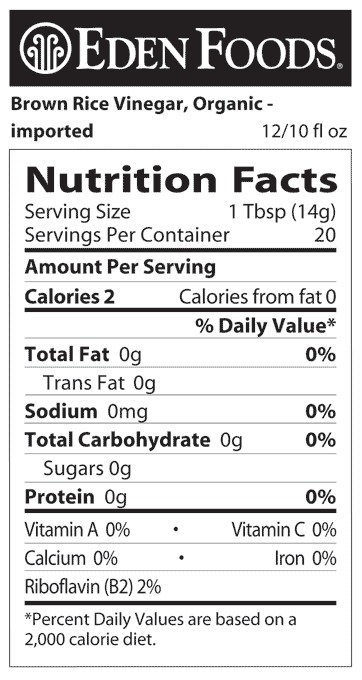 Healthy Planet Canada wants to ensure the complete and total accuracy of the product images and information contained on our website. However, some manufacturing changes to packaging or ingredients may be pending updates on our website.
Some items may occasionally ship with alternate packaging (recently updated by the supplier or manufacturer). While in these cases, ingredients are usually the same and only the packaging has been updated, we always recommend that you read labels, warnings and directions of all products before use and not rely solely on the information provided by Healthy Planet Canada.
Probiotics Disclaimer:
Probiotics are refrigerated in our warehouse to ensure quality and optimal potency. They are also shipped with a FREE ice pack. Although the product may not be cold when it arrives, this ice pack helps maintain a cooler temperature during transit. We recommend considering weekend/holiday delays when ordering (I.E. ordering on a weekday and not on Friday or Saturday, or during holidays